Sinapro.IIoT - the basic building block of the Smart Factory
Sophisticated manufacturing execution system for smart factories
 Sinapro.IIoT is a manufacturing execution system (MES), an IIoT platform in the cloud with all its functionalities enables the full implementation of all functions of the smart factory.
Sinapro.IIoT - Industry 4.0 platform for digital transformation in industry
The Sinapro.IIoT platform is an integral part of the concept of the factories of the future and a fundamental element of Industry 4.0 and the introduction of the digital transformation of production processes. It is based on the internationally approved architecture of the factories of the future Industry 4.0 RAMI 4.0 (IEC 62890, IEC 62264, IEC 61512 etc.) and it supports a number of standards, such as MIMOSA, ISA95, MESA, CEP.
The goal of introducing the IIoT platform into production is to enable collecting a large quantities of data and access to these data from machines, lines and other industrial devices that will be immediately available to key stakeholders (MES – manufacturing execution system, ERP business information systems, QS, analytics systems, employees, suppliers, customers).
It upgrades the functionalities of existing control systems with PLC controllers and SCADA control systems. All the collected data are analyzed in real time and information for more efficient management of production processes is provided.
By providing extremely detailed real-time data, the Sinapro.IIoT platform can help companies better understand their processes, enable faster and better decision-making, and improve work in production and make it more efficient.
Important Challenges that Sinapro.IIoT addresses
Not knowing what is happening on the shop floor
Poor business picture of the factory because of the lack of relevant data
Lack of visibility and real–time control of all manufacturing operations 
Unrealistic schedules and long cycle times, unfulfilled expectations, poor customer satisfaction
Problems with timing and availability of production assets
To high scrap rates, not knowing what causes manufacturing low quality products
Too long turnaround time (too high inventory)
Lack of traceability of products and resources
Lack of data integration between different IT systems
Unmotivated manufacturing team
Key Functionalities
1.
Automated real-time data collection 
Automatically collect manufacturing data to reduce manual data entry, improve accuracy, and speed up management processes.
2.
Centralised operations 
Manage and control manufacturing and shop floor operations using a single, centralised solution.
 3.
Product and work order traceability
A complete manufacturing track and trace system to maintain visibility and item tracking throughout the supply chain. 
6 Basic modules of the Sinapro.IIoT
Sinapro.IIoT is a complete modular industrial IoT platform with six basic modules.
Sinapro.IIoT as the main building block of the Smart Factory!
How Sinapro.IIoT works?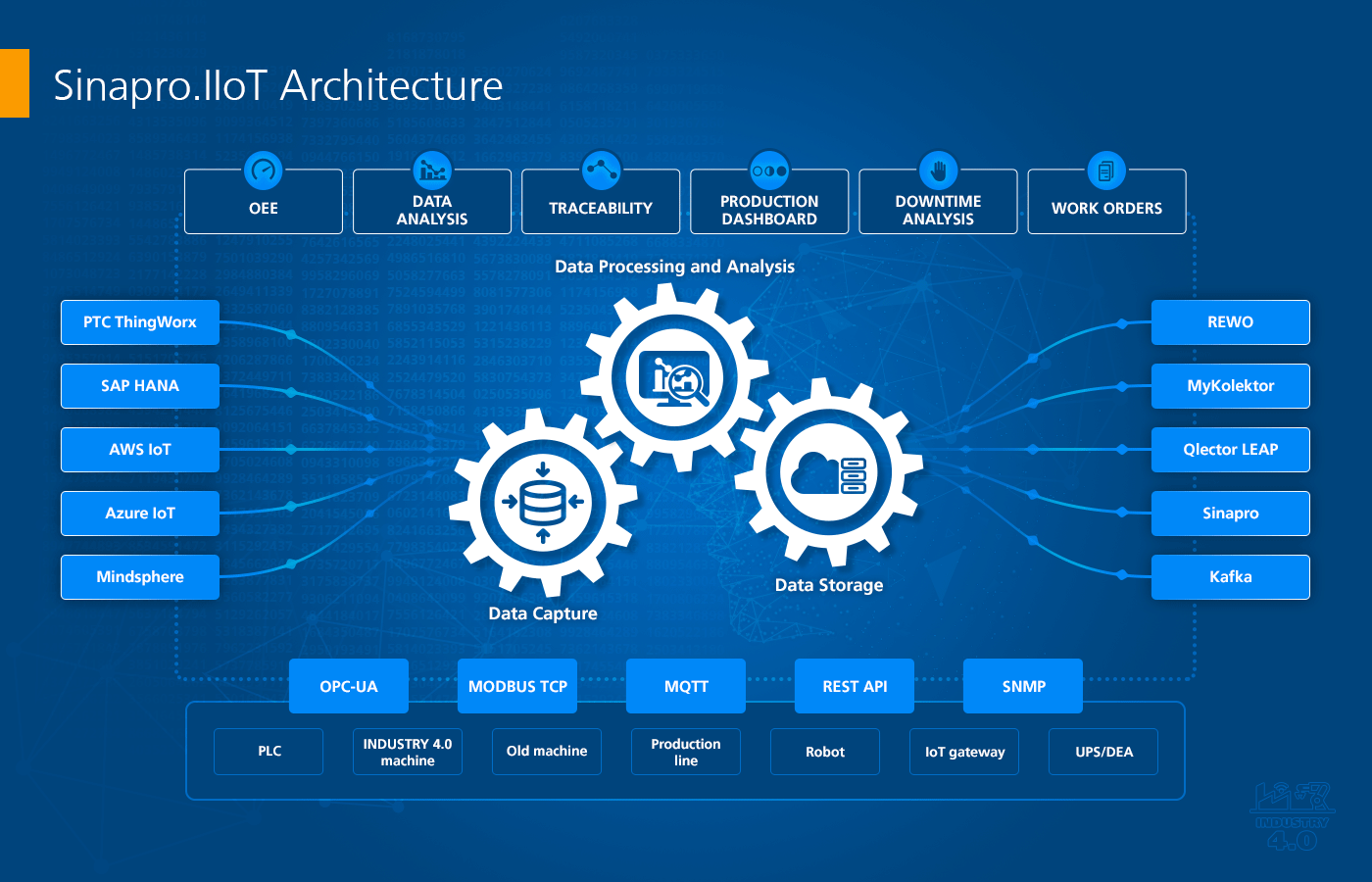 Main competitive advantages of Sinapro.IIoT
On premise or cloud setup available
Choose your flavor of either full cloud, full on-prem or hybrid setups to maximize your IT resources while protecting your data.
Device data visualization 
Use custom web based applications for user friendly functionalities and attractive management visualization of information.
Real time data collection and analyzing
Use the power of in-flight data processing to react to critical events and make business decisions in real-time.
Rule based events and notifications management
Enable your OT to manage the performance of the equipment with just a few mouse clicks without the intervention of the IT..
Device management and feature configuration
Empower engineers in OT to connect and configure devices without programming.
Horizontally and vertically scalable
Sinapro.IIoT enable no downtime on-demand automatic scalability
Contact us
Together we can find a solution